Madonna and Jesus Host Dance Off in NYC!
---
Couples Watch: Madonna & Jesus Host a Dance-Off in N.Y.C.
Monday March 22, 2010 06:00 AM EDT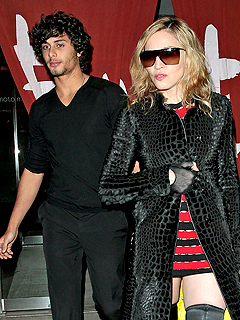 Jesus Luz and Madonna
Jackson Lee/Splash News Online
•
Madonna
and Jesus Luz, hosting an epic dance-off at SL in New York. The pop star was there to scout dancers for her upcoming tour – and half the room was roped off for the impromptu performance, where Brazilian dancers used drumsticks and mixed mock combat with flips and spins while getting down. Madonna and Luz held hands and watched. After enjoying the performance, the twosome joined in and danced together for around 90 minutes before leaving together in great spirits.
• By DAVID CAPLAN, JENNIFER GARCIA, CARLOS GREER and LESLEY MESSER