Madonna gives a Memorable Christmas to Orphans from Malawi
---
December 27th, 2010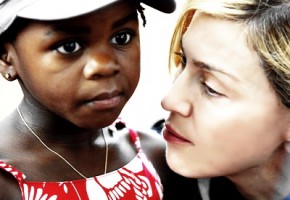 Madonna shipped boxes and bales containing toys, chocolate and sweets to six orphanages in Malawi. Along with the goodies, she also included a handwritten note that read
"To my Malawi children on Christmas and Boxing Day.
I wish I was with you.
See you soon,
M."
Officials at Madonna's charity, Raising Malawi, distributed the items and other miniature Christmas cards signed by Madonna and children Lourdes, 14, and Rocco, 10.
The notes read:
"Mercy, David, Rocco, Lourdes and I send you a blessed Christmas to all of you!"
Also in the bales were new clothing and items that Madonna, Lourdes, Rocco and Mercy have outgrown and can no longer use.
Madonna also threw an open-air party at Consol Homes, an orphanage near Lilongwe. Over 1,000 people from the surrounding villages were invited to celebrate with the 2,500 orphans and underprivileged children.
Yacinta Chapomba, director of Consol Homes explained…
"Madonna says she always enjoys the traditional dances the villagers perform for her when she visits. She asked us to invite as many villagers as possible for the Christmas party."


Read more: http://www.madonnarama.com/posts-en/2010/12/27/madonna-gives-a-memorable-christmas-to-orphans-from-malawi/#ixzz19RRjPa5d