Rossellini slams Madonna's 'Sex' book
Sunday, December 12 2010, 10:58am EST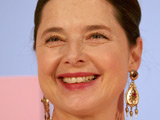 Rex Features
Isabella Rossellini has slammed Madonna's controversial '90s book Sex, despite appearing in the publication as a model.
The actress claims that although she was photographed for the book, she now disagrees with the message it presented.
"I don't think the book worked, even though the photos were extraordinary," Rossellini told the Daily Express. "It's funny to use the world moralistic but it was a little bit of 'I know better' and I didn't like that.
"That bothered the hell out of me. I think if you want to practise abstinence and that makes you happy you are okay."
Rossellini appeared in the book in a number of photographs along with other celebrities such as Naomi Campbell and Vanilla Ice.
Madonna and photographer Steven Meisel caused controversy when they published Sex in 1992, which depicted images of softcore pornography and sado-masochism.