December 12th, 2010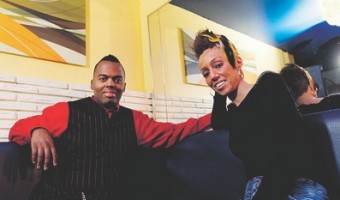 Dessy Di Lauro and Ric'key Pageot are a musical couple who have travelled the world with Cirque du Soleil. They recently gave an interview to The Montreal Gazette in which Pageot who toured with Madonna during her Sticky & Sweet Tour, explains how he met Madonna's musical director, Kevin Antunes and what it was like to work with the Queen of Pop…
Ric'key Pageot
"At the time, Kevin Antunes was the musical director for Justin Timberlake.
I said, 'Hey, I just moved to L.A. I'm available if ever you need me.' Four months later, I got a call for Madonna.
Before hiring me, he did a lot of research about me, into my personality, my work ethic, my specialties. He's been in the business 15 or 20 years, with New Kids On the Block, Britney.
(Touring with Madonna was) phenomenal. She wants us to live her life, meet cool people and hang out in really cool places.
Dessy got to come out a couple of times."
Dessy Di Lauro
"People are aware that the Cirque work ethic is crazy. They're very strict, you work long hours and they go for perfection. That's what (Madonna) does."
(Touring with Madonna) was surreal. It's a huge production. It was crazy, being in Brazil and seeing 120,000 people packed into a stadium."
Ric'key Pageot
"You get used to it."


Read more: http://www.madonnarama.com/posts-en/2010/12/12/rickey-pageot-touring-with-madonna-was-phenomenal/#ixzz17vfBpyDq