Great Lady Gaga Interview
---
Lady Gaga Talks About Her New Album, the Music Industry and Her Recent Health Problems
Author: Staff | Date: May 23rd 2010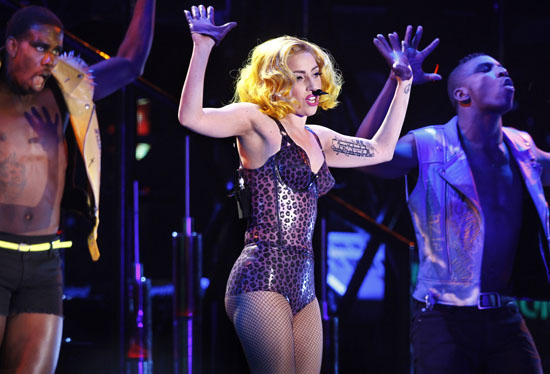 International Pop superstar Lady Gaga recently sat down with the UK's Times Online for a very revealing interview.
Gaga, who is currently on her "Monster Ball" Tour has been busy writing her new album, which she hopes will hit shelves by the end of the year. In this new interview, she talks about the upcoming album and having a "miracle-like experience" during the drafting process. And she finally lets her fans in on what's going on with her health, hinting she might have Lupus, which would explain recent reports of her being exhausted and fainting.
Check out a few quotes/snippets from the interview below:
On the new album:
"I don't understand bands who say they'll tour for one year, then record the next," she exclaims at one point, going Thatcher again. "I make music every DAY!" Although she "can't talk about it yet", she is clearly excited about the next album. She keeps trying to tell me things about it, then claps her hands over her mouth, going, "I can't! But everyone's going to f***ing know about it when it comes out," she says, excitedly. "You know when people say, 'If you could say one sentence about who you are, what your life is?' It's that. For the whole album. Because I recently had this… miracle-like experience, where I feel much more connected to God."
You were raised a Catholic – so when you say "God", do you mean the Catholic God, or a different, perhaps more spiritual sense of God?
"More spiritual," Gaga says, looking like she's biting her tongue. "I don't want to say much, because I want it to stay hidden until it comes out – but I will say that religion is very confusing for everyone, and particularly me, because there's really no religion that doesn't hate or condemn a certain kind of people, and I totally believe in all love and forgiveness, and excluding no one."
On her health:
People say I should take a break, but I'm like, 'Why should I take a break? What do you want me to do – go on vacation?'"
"What's the nearest you've ever come to death?" I ask her. "Do you have any recurring illnesses?"
She goes oddly still for a moment, and then says, "I have heart palpitations and… things. But it's OK. It's just from fatigue and other things," she shrugs, before saying, with great care, "I'm very connected to my aunt, Joanne, who died of lupus. It's a very personal thing. I don't want my fans to be worried about me."
Her eyes are very wide. "Lupus. That's genetic, isn't it?" I ask.
"Yes."
"And have you been tested?"
Again, the eyes are very wide and steady. "Yes." Pause. "But I don't want anyone to be worried."
"When was the last time you called the emergency services?" I ask.
"The other day," Gaga says, still talking very carefully. "In Tokyo. I was having trouble breathing. I had a little oxygen, then I went on stage. I was OK. But like I say, I don't want anyone to worry."
It's a very odd moment. Gaga is staring at me calmly but intently. Of course, she hasn't said, outright, "I have lupus." But the suggestion throws the whole previous year – being delayed on stage, cancelling gigs, having to call the emergency services – into sharp relief.
"What's the best thing you've spent your money on so far?" I ask, in a far more cheerful mood.
"I bought my parents a car," Gaga replies. She has often spoken of how close she is to her parents – particularly her father, whom she appears to borderline worship. Presumably, she sees herself in him – a self-made man, he started as a rock'n'roll bar musician, before making his fortune as an internet entrepreneur. By the time Gaga was 13, the family were rich enough to send her to the same school as heiress Paris Hilton. Gaga is not faking her current outsiderness – even back then, when she was still just Stefani Germanotta, she was the Goth girl with dyed black hair, obsessed with Judy Garland, Led Zeppelin and David Bowie, and wearing her skirts really high.
"It's a Rolls-Royce," she continues, sipping on her tea, daintily. She has lifted the veil now: she looks as casual as it is possible to in a wig and couture. "It's black. My dad's very Italian, so I wanted to get him a real Godfather car. I had it delivered on their wedding anniversary."
When Gaga rang her father and told him to "Go outside!", he refused. "He thought I'd got him a dancing gorillagram," she giggled. The car had a huge bow on it, and the message, "A car to last like a love like yours." At first, Gaga's parents just thought they had it for the day, to drive round in. When she told them it was theirs to keep, her father shouted "You're crazy!" and burst into tears.
"You see, I don't really spend money and I don't really like fame," Gaga says. "I spend my money on my shows – but I don't like buying things. I don't buy diamonds, because I don't know where they came from. I'll spend it on fashion." She hugs the McQueen cloak close.
"I miss Lee every time I get dressed," she says, sadly. "But you know what I spend most of my money on? Disappearing. I hate the paparazzi. Because the truth is – no matter what people tell you – you can control it. If you put as much money into your security as you put into your cars or your diamonds or your jewellery, you can just… disappear. People who say they can't get away are lying. They must just like the… big flashes."