Gaga Loses Expensive Underwear!
---
First Posted: 05-10-10 08:40 AM   |   Updated: 05-10-10 09:55 AM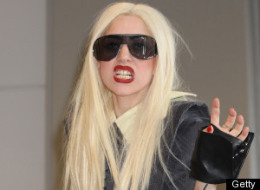 Get Breaking News Alerts
Lady Gaga allegedly lost four sets of expensive Rigby and Peller lingerie, the Daily Mail UK reports. Rigby and Peller said it sent seven sets from its fall/winter 2010 collection to Gaga so that she could use them in an upcoming music video, but that Gaga only returned three sets in time for the brand's show, which was held last Thursday. The others were reported AWOL by couriers.
A spokeswoman for Rigby and Peller said:
'They are all hand-made and unique designs that are simply priceless and are not available anywhere in the world so we are really disappointed not to get them back in time for our major showcase of the year.
'The last we heard the underwear was still 'AWOL' and we are not sure when we will see them again. If we don't get them back then it could hold up the whole production of our AW10 collection as they are the prototypes.'
She might see them sooner than later if Lady Gaga's latest outfit is any indication of what's to come, wardrobe-wise. The singer was spotted out in her underwear in Sweden on Sunday.