Lady Gaga's Sis Makes Cameo in "Telephone" Video
Mon., Mar. 15, 2010 8:33 AM PDT by Peter Gicas and Lindsay Miller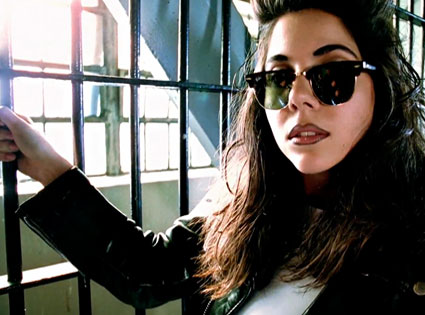 Interscope Records
It turns out that in addition to containing little monsters, Lady Gaga's new "Telephone" video also features her little sister.
If you look closely during one particular scene early on, there's a brunette in shades who bears a striking resemblance to Gaga herself. Sure enough, Brian Lichtenberg, who designed the provocative crime scene tape outfit Gaga wears in her cell, tells E! News that the young lady is indeed the singer's 17-year-old sibling, Natali Germanotta. 
"When she [Gaga] is on the phone in jail, there's a girl behind her that's in the frame that looks a lot like Gaga," Lichtenberg says. "That's her sister."
Meanwhile, Gaga has just announed she will be kicking off her 2010 North American Monster Ball Tour beginning June 28 in Montreal, with tickets going on sale starting March 19. Each show will reportedly include special guests.
No word, though, if the singer's sis will be one of them.