Madonna listed twice Slant Magazine
---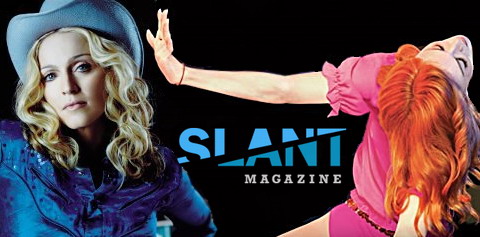 Slant Magazine's best albums of the decade
31. Madonna, Music. (2000)
Though Madonna would collaborate with William Orbit on three tracks on her follow-up to Ray of Light, the album otherwise represented a seismic shift from its predecessor's warm-and-gooey spirituality (a Book of Revelation to many fans, anathema to others). Mirwais's defiantly experimental, Eurotrashy, wholly artificial production—awash in Auto-Tune and Nintendo beats—was bound to disappoint some, but no one does ersatz like Madonna, and fittingly, this is also one of her most soul-bearing works, from the feminist "What It Feels Like for a Girl," to the Toni Morrison-alluding "Paradise (Not for Me), to "Nobody's Perfect," a slow burn that's never less than affecting.
38. Madonna, Confessions on a Dance Floor. (2005)
Confessions on a Dance Floor could've just as easily been called Ghost of Madonnas Past: at once a thumping tribute to the restorative power of dance music (this was the workout album of the decade if there was one) and a treatise on the singer's own fame ("I spent my whole life wanting to be talked about"), in which all her musical tics headily come to fore (singing in foreign languages? Check. Faux-tribalistic hymn? Check.). References to the past are everywhere, from the ABBA sample of "Hung Up" to her silly love letter to the city where she got her start, "I Love New York," but Madonna has always been a thoroughly postmodern pop artist, and as such, songs like "Hung Up," Sorry," and "Forbidden Love" aren't so much throwbacks as updates of the disco sound to which she's indebted.