December 18th, 2010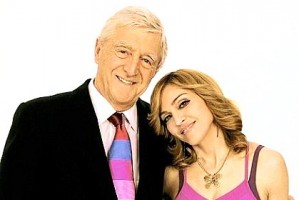 It was a moment that stands out in Michael Parkinson's 37 years of interviewing the rich, the famous, the powerful, the talented and the bizarre. After years of pursuing her, in 2005 Madonna finally agreed to appear on Parkinson. She appeared at the top of the stairs in skin-tight jeans, boots and with her muscular arms on display in a sleeveless red top. Her blonde hair was blow-dried to perfection and as the Parkinson theme tune played she confidently took her seat opposite her host.
Here's what the host had to say about the Queen of Pop…
"We were in talks with her people for about 20 years but it always came back that she'd only talk about this and she'd only talk about that and she won't talk about that.
And we said, 'well, it's our show and we are never told what to say by any of our guests. And when Madonna is ready to talk to us on those terms it will be wonderful to interview her'. In 2005 we finally had a call, saying, 'Yes, she'll do it'. And we did a one-woman show and she was absolutely brilliant.
And there was a marvellous moment for me which defined the entire business of interviewing stars. We had a technical breakdown and these girls appeared, all her minders, with these little miners' lights clipped to their foreheads. They had various jobs, such as looking after her hair, her make-up, her clothes, etc.
But, as I stood back, I watched one of these girls with real fascination because I couldn't make out what she was doing. She had a long, thin stick in her hand and at the end was a cotton bud. And she was following Madonna around. And then, at one point, Madonna turned towards her, stood still and the girl put the cotton bud up Madonna's nose to look for bogeys.
And I thought that's the job I want when I retire to be Madonna's bogey finder!"
Source : The Herald Sun


Read more: http://www.madonnarama.com/posts-en/2010/12/18/michael-parkinson-madonna-was-absolutely-brilliant/#ixzz18aOzIe4m