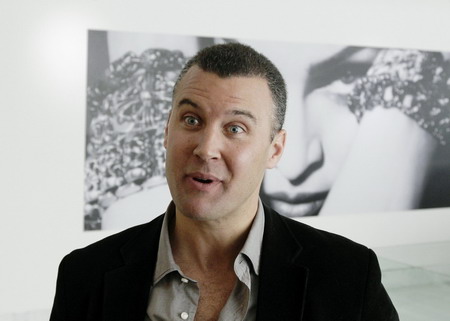 Chris Dedicik, CEO of Evolution New Ventures Mexico, told Mexican newspapers:
We immediately liked this place, because it had the dimensions we were looking for, as well as natural light, which is very important to the concept we were trying to develop.
She has not yet visited the gym, but we have sent many videos at every step in the process.
The images in the lobby, which decorate the first floor and the spinning room, are chosen by her.
She is very excited about this new project. For Madonna, the members are the most important part and this party is for them. We also sent a list with profile photos of special guests and she had the final say.
More information on the Hard Candy Fitness center in Mexico…
The lobby, whose main wall is decorated with the album cover of Celebration, is open to the public and will feature a health food bar and energy drinks. It also features a small terrace.
On the second floor, which is for members only, you can find an executive area with internet access, the personal training area and an area dedicated to cardio with about 80 fitness machines.
The third floor is divided in two areas: the dance-yoga-spinning area and the weight-lifting area.
The dance-yoga-spinning area consists of three different halls. In the main hall, 250 square meter, dance classes of different styles will be given and it will also serve as a scene for DJ Paul Oakenfold this Monday, who will be responsible for the music during the special dance class with Madonna. The other two halls are destined for yoga and spinning.
In the weight-lifting area, you'll find about 60 machines altogether.
Other details:
- Dressing rooms, bathrooms, showers, sauna are on the second floor.
- The personal training and cardio area has elliptical machines, treadmills, weights, bicycles and equipment for sit-ups or stretching. It also features 6 plasma screens which can be used for exclusive messages by Madonna.
- For an extra fee you can have access to a personal trainer who will guide you through your exercise routine
- The spinning hall on the third floor is equipped with 35 bikes.
- The floor of the "Mind and Body" hall, where the yoga classes will be given, is made of bamboo imported from China.
- Yoga classes will also feature Iyengar Yoga, a form of yoga known for its use of props, such as belts and blocks.
More rumours from the press:
For her visit on Monday, Madonna didn't request anything special, however it seems DJ Paul Oakenfold is a bit of a diva, since he requested all kinds of variety of drinks, coffee, tea, food at certain moments, etc.
Madonna will arrive at Bosques de Duraznos 47 around 7:00pm and will leave Mexico City on Monday, but will be staying in the country for a vacation.
The Mexican media expects the arrival of 750 VIP guests at 4:00pm, including Mexican billionaire Carlos Slim Helú.
Have a look at some pictures…
Sources: Milenio, Impacto Diario, Terra, OEM
Translation: Madonnarama.com


Read more: http://www.madonnarama.com/posts-en/2010/11/28/a-visit-inside-madonnas-first-hard-candy-fitness-center/#ixzz16bzMzvOr