Live Nation, Kees Tabak, Raspberry awards, Hard Candy Fitness, and more
---
Madonna's Live Nation Deal in Question?
After pulling back on mega-million-dollar deals with superstars like Madonna and Jay-Z, Live Nation is now hauling Michael Cohl, one of the original supporters of that controversial strategy to court, accusing him of breaching a non-compete agreement signed when he exited Live Nation in 2008.
Cohl left the company in 2008 after a boardroom battle over Live Nation's "360 degree" deals with top artists. Cohl favored the approach, which signed top acts to wide-ranging deals spanning recording, touring, merchandising and other rights.
But Cohl clashed with CEO Michael Rapino and others in the company who reportedly found the deals too expensive. In two cases, Live Nation agreed to pay Madonna $120 million and Jay-Z $150 million.
The size of those deals has since then been called into question, in particular after the concert promoter's merger this year with the dominant ticket seller, Ticketmaster. Live Nation struggled to fill seats over the summer as concert-goers balked at rising ticket prices.
Kees Tabak: "No More Heroes"
Photographer Kees Tabak has just released "No More Heroes", a book on his work including numerous pictures of Madonna and a glamourous cover featuring the queen of pop!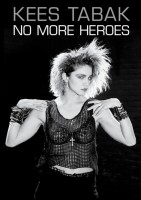 Madonna and acting
John Wilson, founder of the Golden Raspberry awards, where awards are given to awful films, actors and directors, was recently interviewed and asked about Madonna, who has won ten awards, only one less than the record holder, Sylvester Stallone.
He says:
She is a very talented singer and person, but she has forged a twenty year career in acting and brought nothing to the table. She is just awful. Even in Truth Or dare she was bad, and she was playing herself. With the exception of Evita and Desperately Seeking Susan, where she was playing an extension of herself, she is dreadful.
Hard Candy Fitness Center Video
A video of the Hard Candy Fitness Center in Mexico opening next week…
Nicki Minaj: Girls Fall Like Dominoes
Nicki Minaj mentions Madonna in her song 'Girls Fall Like Dominoes'
Here's part of the lyrics…
Material Girls like Madonna
Model for Donatella, ain't nothing you can tell her cause she get the mozarella.
She looks just like Rihanna, she works with Wilhelmina


Read more: http://www.madonnarama.com/posts-en/2010/11/23/live-nation-kees-tabak-raspberry-awards-hard-candy-fitness-and-more/#ixzz16EZbOgUY