Semi Precious Weapons Discuss meeting Madonna in NYC
October 12th, 2010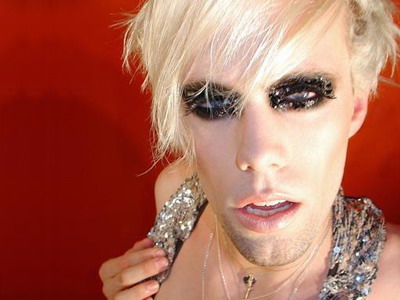 Rock band Semi Precious Weapons have been supporting Lady Gaga's Monster Ball Tour for the better part of this year
The band (frontman Justin Tranter, bassist Cole Whittle, drummer Dan Crean and guitarist Stevy Pyne) gave an interview to Jon Chattman for the Huffington Post and here what they had to say about Madonna…
Jon Chattman: Your connection with Gaga is obvious, but what about another New Yok icon, what's your take on Madonna?
Semi Precious Weapons: I think she's a genius.How could she not be?
Jon Chattman: Did you ever meet her?
Semi Precious Weapons: Yeah I met her very very briefly at a Gaga show.
Jon Chattman: Cold, down to earth, intimidated?
Semi Precious Weapons: Not intimidating at all. I just shook her hand and said hi. That's not really meeting, but I stood next to her watching Gaga's show and this was about a year and a half ago. Right when Gaga was breaking. She wasn't even the massive force she is now. She was just a girl with two hit songs and Madonna was in it. So, that was pretty amazing.
Read more:
http://www.madonnarama.com/posts-en/2010/10/12/semi-precious-weapons-discuss-meeting-madonna-in-nyc/#ixzz12dV0AGGx