In Short: Lil Wayne, Forbes, Macy
---
October 7th, 2010
Lil Wayne in good spirits, joking about Madonna
Rapper Lil Wayne is finally set to be released from jail on the 4th of November, and he's already starting to organize plans for the following weekend.  MTV recently broadcasted a phone call  that they had with Wayne, in which they talked to him about a concert that's being planned in his honor.  Wayne was asked which music act he'd like to see performing at that concert, and without missing a beat he replied, "Madonna," and then laughed and said he was joking.
Fergie thinks Cheryl Cole can be as big as Madonna…
Black Eyed Peas leading lady Fergie has revealed that she thinks Cheryl Cole could become so famous, she could 'rule the world.'
"She is such a good friend. But I don't think she has quite got her head around how big she is going to be. My girl really can rule the world. I have already heard crazy things like Robert De Niro wants to make movies with her and that Jay-Z wants to work with her.
Within five years we could be talking about Cheryl on the same level as we go Madonna or Mariah Carey."
Macy's sees 4.8% Sept. same-store sales gain
This year's back-to-school season was one of the best in years for Macy's Inc., sending same-store sales up 4.8 percent in September.
Same-store sales are sales at stores open at least a year. Total sales at Cincinnati-based Macy's (NYSE:M) rose 6.9 percent in September to $2.18 billion from $2.04 billion in the same period a year ago.
CEO Terry Lundgren said in a press release that the successful back-to-school season was helped by strong results from its new juniors line from Madonna and its American Rag private brand. The company also launched Kenneth Cole Reaction men's sportswear brand and will soon roll out an exclusive Sean John men's sportswear line as well.
So far this year, total sales are up 7 percent to $14.9 billion. Same-store sales are up 5 percent. Macy's online sales are up 29 percent in September and about 30 percent year to date, the company said.

The top 100 most powerful women?
Michelle Obama Tops Forbes List Of World's Most Powerful Women
Madonna is only at #29 behind Oprah Winfrey (#3), Lady Gaga (#7), Beyoncé Knowles (#9) or Ellen Degeneres (#10)
Evidently and according to Forbes, the most powerful are, unsurprisingly, mostly American.
The full list… HERE
Stalker… or not
Crazed Madonna fan Robert Linhart cleared of stalking charges, indicted for weapons possession
Robert Linhart, 59, was arrested twice outside her Central Park West pad last month for making graffiti, resisting arrest, and having a gravity knife, an ice pick and a billy club, according to court records.
Linhart's lawyer, Justine Luongo, claimed that because the grand jury was only asked to consider a weapons rap, prosecutors had effectively dropped all charges related to Madonna.
Prosecutors said that even though Linhart declared he wasn't going to stop until he met Madonna, the case does not rely any perceived threat to her.
Exposed (Chronicle Books)
For more than 40 years, Mick Rock has been one of music's most in-demand photographers.
His glossy new book Exposed (Chronicle Books) reveals shots of early Madonna, David Bowie and Lou Reed, Lady Gaga and The Killers.
Have a look at the Madonna photo from the book…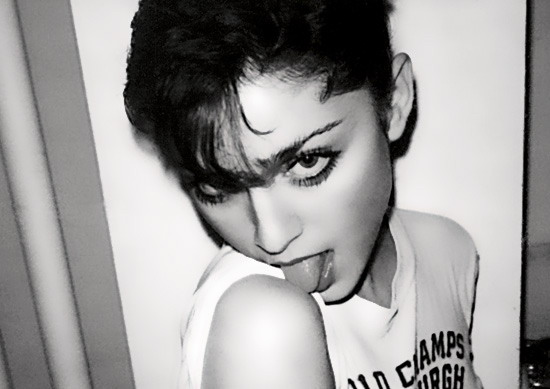 Read more: http://www.madonnarama.com/posts-en/2010/10/07/short-news-2/#ixzz11t46pjv7