The rise of Andrea Riseborough
From Margaret Thatcher to a Dagenham factory worker, Andrea Riseborough has earned a name for herself portraying headstrong women on stage and screen. But her next role will be the most challenging yet – Mrs Simpson, directed by Madonna 
Sunday 26 September 2010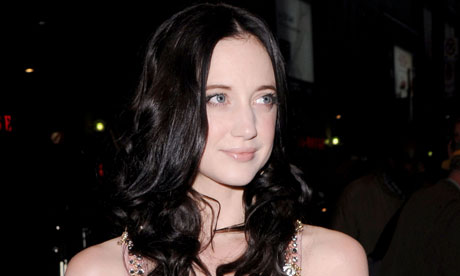 Andrea Riseborough at the Toronto International Film Festival premiere of Brighton Rock. Photograph: Jason Merritt/Getty Images
As a child, Andrea Riseborough spent a lot of time watching people. "I used to stare at them in restaurants, open-mouthed until my little brother said 'Er, Andrea, don't do that,'" she says, emitting a short burst of self-mocking laughter. She recalls being particularly in awe of the way her friend Chloe drank juice from her cup. "I used to think she was so cool, so exciting and so I copied the way she drank because I wanted to be closer to her. I don't know whether that's exploration or voyeurism or what that is."
Whatever it was, those formative experiences served her well in her chosen career as an actress. Now 28 years old, the porcelain-skinned Riseborough has been the target of much breathless admiration since graduating from Rada five years ago. In 2006, she won the Ian Charleson Award for exceptional classical stage work from actors under 30, for her roles in the Royal Shakespeare Company's productions of Miss Julie and Measure for Measure. Sir Peter Hall, who directed her, describes her as "one of the bravest and most impressive actresses I've come across in recent years".
She went on to make her name in a series of high-profile stage and television roles – most notably as an aristocratic beauty in Channel 4's civil war epic, The Devil's Whore, and as a strangely appealing Margaret Thatcher in The Long Walk to Finchley for the BBC. "I wouldn't say I loved Thatcher by the end of it," says Riseborough, "but I did end up feeling very warm towards the character."
More recently, the accolades have been pouring in for her film work. From Friday she will be appearing on our cinema screens as Brenda, a magnificently beehived Ford factory machinist fighting for equal pay in late 1960s Britain in Made in Dagenham (a true story directed by Nigel Cole, who made Calendar Girls). A further barrage of projects is lined up to follow, all of them set to catapult her star into the Hollywood firmament.
Next January, Riseborough will be starring in the highly anticipated film adaptation of Kazuo Ishiguro's futuristic novel Never Let Me Go, alongside fellow British actors-of-the-moment Carey Mulligan and Andrew Garfield, while her performance as the innocent waitress Rose in Rowan Joffé's remake of Brighton Rock has already been heralded as "breathtaking" by one critic at the Toronto Film Festival.
So it seems that all those hours spent staring at strangers was worth it. "Yeah, I mean, looking back now it makes complete sense," she admits, in the soft, flat northern vowels bequeathed to her by a Whitley Bay childhood. But acting was not an obvious path for her. Born in Newcastle, Riseborough comes from a family of miners and factory workers. Her grandmother was a munitions worker during the second world war and then worked in a sheet glass factory – experiences that Riseborough drew on for her role in Made in Dagenham. "It was man's work really, and she was a slight woman who was six stone pretty much her whole life. She was just incredibly tenacious and like those Dagenham girls, she wasn't the centre of her own world. Those women would be up at 5.30, making breakfast for their men, packed lunches for their children and then they'd go off and work on these heavy-duty pieces of equipment."
Riseborough trained on the machines, sewing leather panels together to make car seats, for two weeks as preparation for her role. Did her brief foray into manual labour make her feel lucky to be an actress? "I think every work is hard in different ways," she answers, after a moment's consideration. "When you're incredibly proficient at something like those women were, you can emotionally disconnect. The emotional cost is different if you're an actor, because you invest so much in what you do."
In fact, she was never going to follow in her grandmother's footsteps. Riseborough's parents – her father was a car salesman and her mother a secretary – prospered during the 1980s economic boom and sent their daughter to an independent school where she flourished academically. It is clear that Riseborough was a gifted – and, by her own admission, "geeky" – child. She disdained cartoons ("I think I found them a bit silly. In Scooby Doo, we all knew who the killer was"), preferring instead to pursue more edifying activities like watching Poirot and reading plays. When I ask her what inspired her to become an actress, she gives a wistful sigh and replies: "Shakespeare opened the door for me dramatically. It was William. My friend William."
Her parents supported her in her ambitions, even when she decided to drop out of school before her A-levels, claiming she was bored and did not want to go to Oxford to read English after all. Instead, she undertook a series of part-time jobs (including a stint shredding duck at a Chinese restaurant) before winning a place at Rada at the age of 20.
"I was very much encouraged to go to Oxford – it was expected of me and I was told I needed to have a fallback if the acting didn't work out," she says. "I'm not even sure what a fallback is. Is it a big cushion or what? Besides, everyone's got qualifications now. I remember reading a prospectus for Leeds and they did a course on 'law and knitting'. Imagine! Sitting in court doing your purl stitch."
Still, the gamble paid off spectacularly well and perhaps, given her single-mindedness, it is no coincidence that Riseborough is drawn to feisty roles. Her speciality appears to be playing women who pose a threat to the established order – from the radically engaged Angelica Fanshawe in The Devil's Whore to Kirsty, the deviously ambitious parliamentary researcher in 2007's shortlived but acclaimed BBC drama Party Animals.
"Party Animals is one of the things people mention to me over and over again," says Riseborough. "I think it was the intellectual's guilty pleasure."
It seems a natural progression for Riseborough to have been cast as Wallis Simpson, the Baltimore divorcee who prompted Britain's 1936 abdication crisis, in the forthcoming biopic W.E. The part was originally intended for Up In the Air actress Vera Farmiga, but she became pregnant and Riseborough stepped in. Bizarrely, the movie is being directed by Madonna. Did the iconic pop star turn up to the first day of filming brandishing a conical bra? "She's wonderful," Riseborough answers, diplomatically attempting to raise the tone. "I think we were just very complicit about how we felt about Wallis Simpson and what she was like behind closed doors. She [Madonna] had researched the hind legs off it."
But there is no time to nose around further because Riseborough immediately launches into a fluent seven-minute disquisition on the political implications of the abdication, taking in Stanley Baldwin, the historical tensions between king and parliament, and the English Civil War. She is really very impressive and, like a kindly university lecturer, peppers her conversation with polite "as you know"s when discussing the genesis of Greek tragedy or the heaven and hell paintings of Hieronymus Bosch. Riseborough used to have Bosch prints hanging on her bedroom walls. "It was between the ages of 17 and 22," she explains, as though talking about an embarrassing teenage ailment. "It was all a bit adolescent."
Nowadays, she is more into Hemingway and Fitzgerald and, inspired by their example, is going to live in the Marais in Paris, where she is buying a flat. Her boyfriend, the American street artist Joe Appel, will be coming to stay, but Riseborough has more important things on her mind. "My French is not what it should be," she explains. "And I'm really excited at the prospect of being enlivened by a new culture."
At least part of the attraction is that she will have a new city at her disposal, filled with cafés and a whole heap of new people to stare at.
SOURCE: http://www.guardian.co.uk/film/2010/sep/26/andrea-riseborough-made-in-dagenham