Win copies of Queen Celebration book
---
Fans have the opportunity to win one of five (5) copies of the new limited-edition book Queen Celebration that is published on Monday 30 November.
To win a copy of the book all you have to do is name the photographer of each of the four pictures below (numbered 1,2,3,4), and send the answers with your name and contact details by email to madonnalicious@gmail.com - please make sure 'Queen Celebration Competition' is the subject title of the email.
The competition closes at 6:00pm (GMT) on Sunday 29 November. The winners will be randomly selected and a copy of the book sent to you by the publishers. The contest is open to fans worldwide.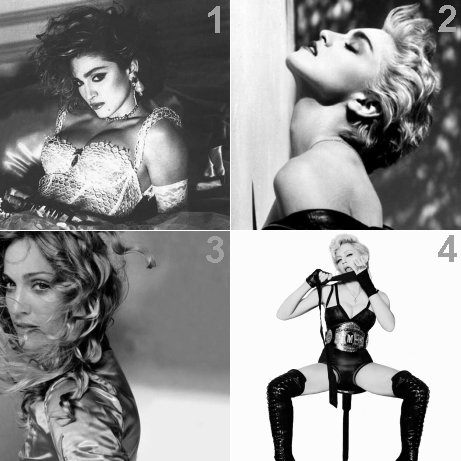 Queen Celebration is a book showing the glorious musical career of the Queen of Pop. This book allows you to discover (or re discover) pictures that made Madonna the most celebrated female singer around the world.
You'll see rare pictures and previously never seen before pictures all taken by the most talented and famous photographers.
Printed on glossy paper, its format (24 x 34cm) makes this book a truly unique and a must have collector item for any fan of the Queen of Pop.
Limited collector edition: 1000 copies only!
Part of the benefits of Queen Celebration will be donated to the Sidaction foundation.
Queen Celebration is avaliable for pre-order now at:
www.sunset-media.net/queencelebration and will be available only at Lucky Records in Paris (on Saturday 28 November 2009).
The publishers Sunset Media have provided this preview of the inside layout of the book.